3rd September 2019
Launch of ZACS®+ with INOK™ technology in Vietnam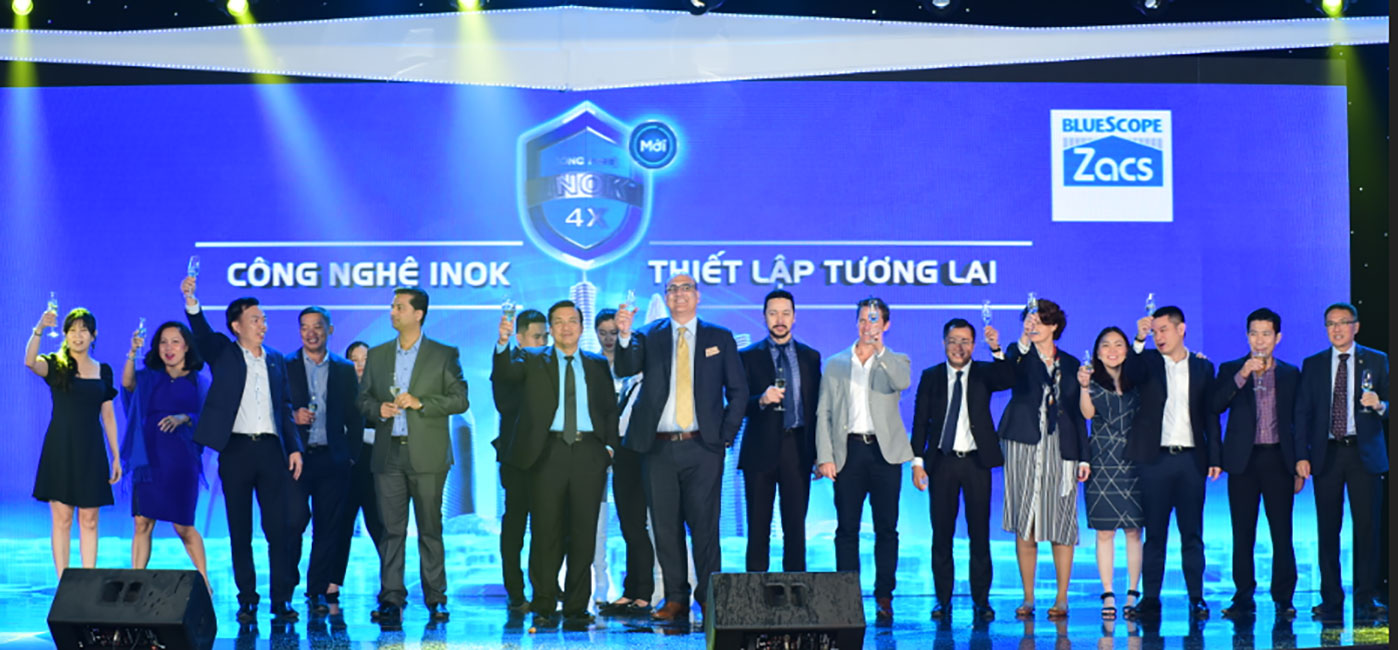 "BlueScope has researched and launched the first
 

ZACS®+

 

with innovative

 

INOK™

 

technology that prevents red-rust effectively at the cutting edges, screw holes and scratches"
Tole is a modern material, the optimal choice for the roof of many buildings thanks to its advantages such as easy installation, flexibility with various types of roof architecture, diverse design and colour.
While choosing tole, beside the criteria of colour and aesthetics, customers immensely consider the durability or the ability of anti-corrosion, especially where red-rust easily appears such as cutting edges, screw holes or scratches.
Rust often spreads from these areas to expose the paint surface, badly damage the roof, or even cause leakage. With current metal-coated steel technology of the market, the rust has not been prevented thoroughly.
Understanding that concern, BlueScope Australia Corporation with more than 100 years of world-leading experience has researched and launched the first ZACS®+ with innovative INOK™ technology that prevents red-rust effectively at the cutting edges, screw holes and scratches, increasing anti-red rust ability better than any other steels.
INOK™ TECHNOLOGY – EXHAUSTING CORROSION
The INOK™ technology (INfinitely Outreaching Know-how) which was developed and copyright registered by BlueScope Australia Corporation, has been applied for the first time to ZACS®+ products in Vietnam. The innovative INOK™ technology got impressive numbers: more than 100 million AUD investment, more than 20 years of research and development, more than 20 patents, independent testing by the French Corrosion Institute (FCI) which is internationally verified.
The INOK™ technology, therefore, prevents rust superior to the current aluminium-zinc coatings alloy-coated technology (also known as galvalume steel) with the protection mechanism from only two layers of aluminium and zinc. The test results of ZACS®+ anti-corrosion like INOK™ has been independently certified by Quatest 3. The perforation by corrosion warranty for ZACS®+, therefore, is doubled up to 20 years.
The INOK™ technology forms the microstructure with the 4 layers matrix of protective compounds for anti-red rust from the anti-corrosion compounds. Thanks to this unique microstructure, the compounds are able to proactively prevent corrosion, especially at cutting edges, screw holes and scratches.
On July 19, 2019, the event of launching ZACS®+ INOK™ products with the theme "INOK TECHNOLOGY – ESTABLISH FUTURE" was held ceremonially at Vinpearl Luxury Landmark 81, with the participation of 150 authorised dealers across a nation.
The attendees said that they were really impressed and believed in the potential development of the breakthrough INOK™ technology, and the advanced product ZACS®+ that brings practical values to Vietnam customers.
For more information about the breakthrough INOK™ technology, find our TVC at the link: https://youtu.be/153NPc_SE6o