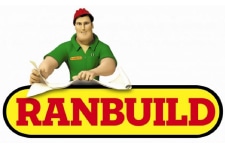 Every shed in our Ranbuild range was designed to give our customers the strongest and the most reliable building as possible.
The light-weight cold form galvanized framework provides strength and versatility not available in other building types. Couple this with a lower cost compared to a custom made building and you have excellent value for money. With over 60 years in Australia, Ranbuild buildings are well and truly tried and tested.
Product Features
Ranbuild buildings have a framing system like no other. The galvanized steel components bolt together for added strength and longer life under all sorts of applications.
Strong and Functional Frames at Lower Cost
The back-to-back galvanized steel intermediate columns and rafters provide a strong and functional frame at a lower cost than comparable hot-rolled or fabricated members.
Space Efficiency
Galvanized steel C section roof purlins and wall girts are flush with outside of columns and rafters. This allow for smooth, continuous cladding without reducing valuable internal space.
Secure in All Weather Conditions
All nuts and bolts are made from high tensile steel, zinc coated for added protection. When cast into the concrete footings, the anchor bolts guarantee secure fastening down in all weather conditions.
Modular System to Fit Your Needs
Ranbuild unique modular system means you can add bays of various sizes to make the building fit your site. Bays may be open, enclosed or supplied with a variety of standard options.Choose from the extensive range of durable and attractive Colorbond® or Zincalume® steel cladding.
Optional Extras to Upgrade Your Building Features
We also provide optional extras includes awnings, annexes, windows, skylights, insulation and ventilation items. Just everything you need to make your shed the way you want it.