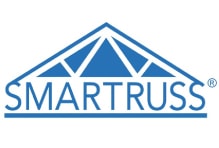 SMARTRUSS®; the trusted brand for cost effective and durable roof truss system.
The integrated engineering and manufacturing technology of SMARTRUSS® provides flexibility and speed in design, delivery and construction.
Product Features
SMARTRUSS® is a roof truss system that offers durability, affordability, strength and stability. The system is convenient and cost effective, as well as quick and easy to deliver and assemble on site.
Lower Lifetime Costs
SMARTRUSS® system is manufactured from high tensile strength, long life Truecore® steel that is backed by a material warranty* of up to 50 years. It provides a lightweight alternative to timber roof framing and is competitively priced as the system's structural integrity leads to lower lifetime costs.
SMARTRUSS® is subjected to comprehensive and rigorous testing processes conducted in our world-class structural testing laboratory. Full truss test rig and web compression, torsion bearing, and bottom chord tension tests are conducted to guarantee the system's structural integrity.
Benefits of SMARTRUSS® System:
It is durable and strong

Offers corrosion protection for long and maintenance-free life

It is fully-engineered and light-weight

Has accurate dimensions

Easy site assembly that requires minimum skill

Requires minimum storage space

Speeds up the construction process

Designed to support any type of roofing product

Roof designs for most shapes of roofs and ceilings

Does not warp, rot and shrink

Termite resistant

Fire resistant