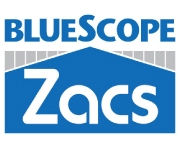 NS BlueScope's premium range of hot dipped zinc/ aluminium alloy-coated steel for retail market.
Specifically designed for roofing, wall cladding, rainwater goods and accessories for residential and SME segment, this cost effective solution meets customers' manufacturing requirements and end users performance expectations.

Product Features
With BlueScope Zacs® – metal roofs made with technology from Australia – expect more than just an aesthetic enhancement. Not only is it designed to stand out, but      BlueScope Zacs® is also made to protect and built to last. It introduces a vibrancy like never before and gives your home a modern and refreshing update.
Abundance Colour Choice
With a large variety of colors, homeowners will be able to bring our their homes' personalities to fit their tastes
Unique Textures
BlueScope Zacs® materials have added textures that make the roofs glisten stunningly when seen from afar.
Made with BlueScope's Proprietary Technology
Through innovation and cutting-edge technology, BlueScope Zacs® roofs are made in accordance to the highest standards at ISO-certified manufacturing facilities.
Long Warranty to Ensure Your Satisfaction
BlueScope's proprietary coating formula ensures that the roofs stay strong for up to 15 years. Corrosion damage is covered by a 12-years warranty while colour fading has a 5-year warranty.
Superior Anti-Corrosion Coating
Thanks to BlueScope's advanced mass coating technology, all BlueScope Zacs® steel is coated with the optimal combination of aluminium-zinc alloy is more corrosion-resistant and longer-lasting.
BlueScope Zacs® Brochure (Thailand)