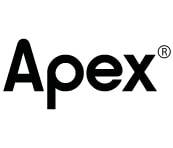 The most economical and efficient roofing and walling solutions.
Apex® steel is affordable yet durable, making it the ideal choice for cost effective roofing and walling applications be it for industrial, commercial or even residential projects.
Product Features
NS BlueScope Vietnam has developed Apex® prepainted steel as an economical option for roofing and walling applications for projects that require a more cost effective building solution, ultilizing the world leading 55% Aluminium/Zinc alloy coating technology to deliver superior durability.
Available in Range of Colours to Suit Your Needs
Apex® steel is available in seven attractive and high performing colours to meet modern project needs.
Easy Maintenance
Apex® steel is easy to maintain and it is also non-combustible. Moreover, it is securely fixed in long continuous sheets providing a weather tight and secure roof.
Warranty for Your Peace of Mind
Apex® steel meets international standards (i.e JIS G3321 and JIS G3322) and comes with a warranty of up to 10 years against perforation by corrosion.
Affordable
Apex® steel is available at an affordable price, thus making it the ideal material to be used for cost effective roofing and walling applications in industrial, commercial, infrastructure and residential projects.