14th March 2016
PT. NS BlueScope Indonesia BlueScope ZacsTM Co-Branding Launch Banjarmasin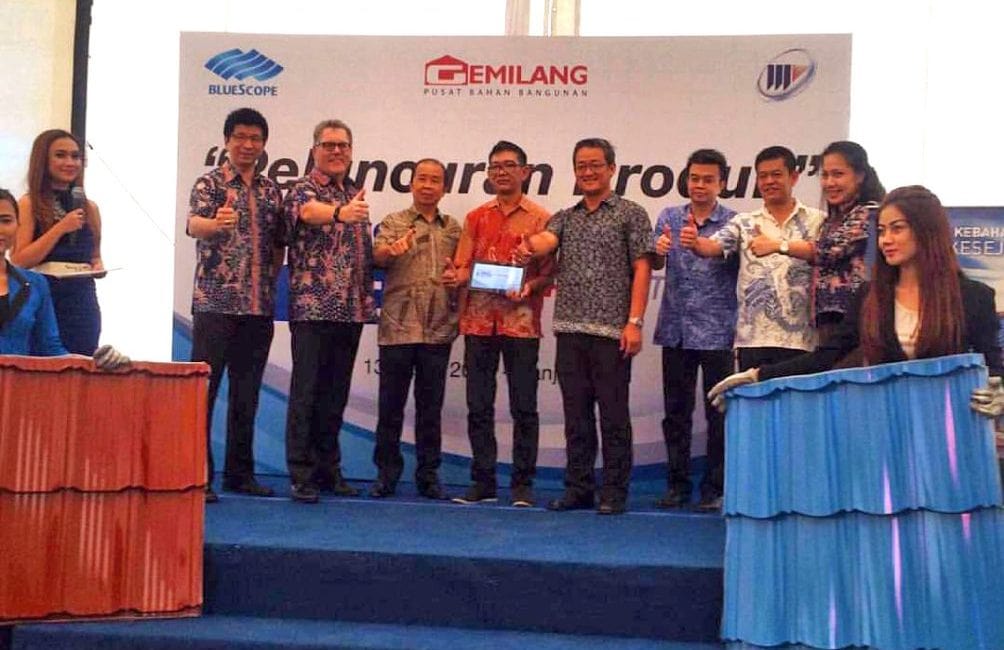 "We explore the role of steel in designing and building a green and sustainable homes as well as whether it is affordable to own one."
On 13th March 2016, PT. NS BlueScope Indonesia (NSBI) for the first time launch Co-Branding BlueScope ZACS™ in Kalimantan with PT. Lintas Wahana Abadi Sejahtera and Depo Gemilang as distributor. NSBI has strong commitment to develop strategy in improving its product performance, innovate, and improve its service quality to fullfil market demand. Through BlueScope ZACS™, NSBI wants to improve the quality of housing particularly in Kalimantan.
BlueScope ZACS™ has several features which are Cool, Painted, Natural, Bare, and Truss. During this launch NSBI introduce BlueScope ZACS™ Cool. BlueScope ZACS™ Cool is made from substrate AZ100 consisting of 55% Alumunium, 43,5% Zinc, and 1,5% Silicon with Cool Technology. This technology can reduce the roof temperature up to 6oC. This will create a more comfortable and cooler indoor temperature. PT. NS BlueScope Indonesia also provided perforation corrosion warranty up to 10 years and color fading warranty up to 5 years. This warranty has also supported by Indonesia technical team availability.
NSBI Country President , Simon Linge said, "We prepared to fulfill aggresive market demand by introducing BlueScope ZACS™ Cool which is suitable with Kalimantan tropical climate". Homeowners in Banjarmasin can find BlueScope ZACS™ as metal tiles or long span with brand SPYRO Xtra and can be purchased in Depo Gemilang and its branches. During launch NSBI offer three type color which are Merah Praba, Hijau Gurda, and Biru Sagara on the other hand other color will soon available.
After the BlueScope ZACS™ launch event, NSBI also cooperates with Depo Gemilang to held BlueScope Training Centre (BTC) for the first time. This program is aiming to educate and improve the quality of lightsteel structure and roofing material application by sharing best practice to applicator from PT. NS BlueScope Indonesia expert. This two day comprehensive program will be continued throughout region and planned to do regularly as part of NSBI commitment to improve housing quality.