5th April 2017
MCL expansion in Thailand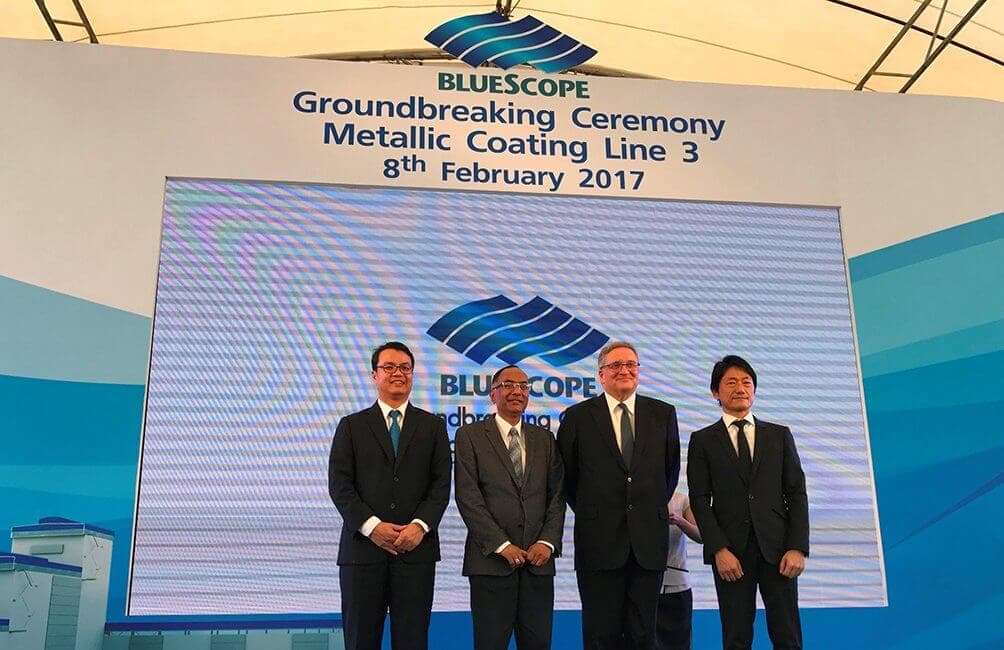 "The new metallic coating line will produce premium metallic coated flat steel for Thailand's construction and manufacturing sectors."
A ceremony has been held to mark the official ground breaking of the third metallic coating line at BlueScope Thailand's Map Ta Phut plant.
"This expansion reflects BlueScope's confidence in the long-term business opportunities offered in Thailand, and our commitment to our customers here," said Somkiat Pintatham Country President BlueScope Thailand, speaking at the ceremony.
"The economic growth and support of customers is encouraging, and we are seeing its effect on the local building and construction market. The products from this new facility will satisfy growing domestic demand, particularly in construction and manufacturing markets."
H.E. Mr. Paul Robilliard, Australian Ambassador to Thailand and Hideo Fukushima, Chargé d'Affaires Embassy of Japan, joined Sanjay Dayal, Chief Executive NS BlueScope, Suebtrakul Soonthornthum, Vice Chairman Executive Board Loxley Public Company Limited, Kazuhiro Egawa, Executive Director Nippon Steel & Sumitomo Metal Corporation, and customers at the ceremony.
The new metallic coating line will produce premium metallic coated flat steel for Thailand's construction and manufacturing sectors. Construction started in October 2016, and the line is expected to be operating from July 2018.