13th March 2019
BlueScope Authorized Dealer Retail Store in Batu Pahat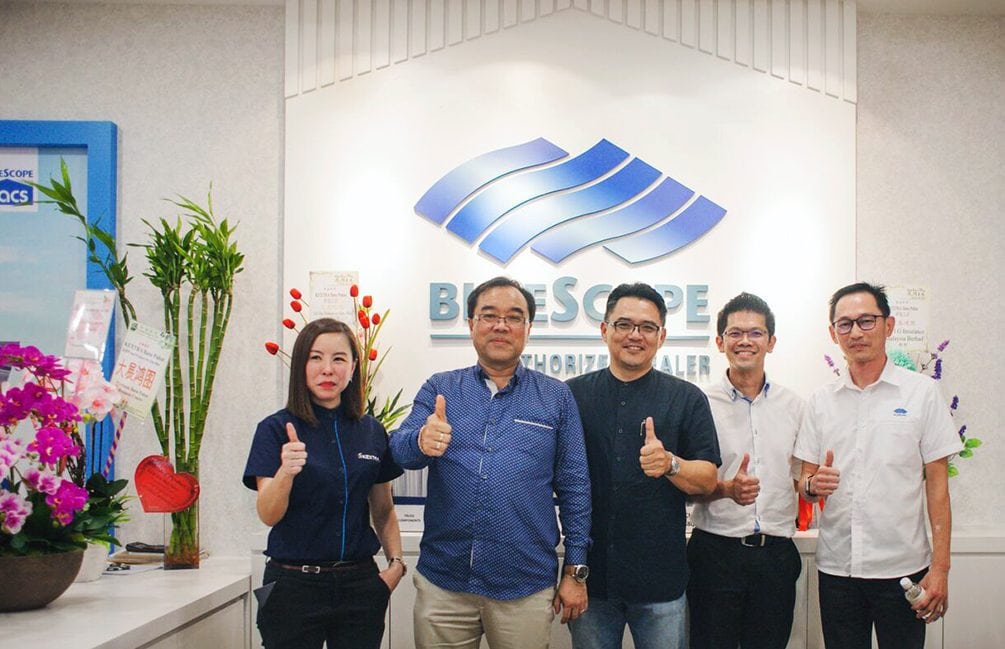 "Research by the Department of Statistics Malaysia has shown that Johor state has the 3rd highest percentage contribution to GDP share by of the construction sector. "
Batu Pahat:  Today, NS BlueScope Malaysia announced its tie-up with KHP Steel Products (M) Sdn. Bhd. NS BlueScope Malaysia is continuing with its plan that will bring quality metal roofing closer to consumers across the country with the establishment of BlueScope Authorized Dealer (BSAD) in Batu Pahat,  Johor.  The company aims to have some 25 BSAD's will be established across the country by 2019.  BlueScope manufacturing plant which was established in Kapar, Klang since 1996 has responded to market demands in the growing retail sector.
Research by the Department of Statistics Malaysia has shown that Johor state has the 3rd highest percentage contribution to GDP share by of the construction sector.  At the same time that consumer trends are shifting the market in Malaysia in terms of demand for housing.  This will mean that as the market for home owners matures so too will demand for roofing solutions that are reflective of increased consumer demand.
 "NS BlueScope has developed a strategy to provide peace of mind to consumers, metal roofing made in Malaysia utilizing advanced Australian technology.  Home owners will now be able to visit a BlueScope Authorized Dealer Retail Store and understand more about metal roofing requirements by trained professionals, then have contractors use the best possible materials, product range and colours when it comes to the home roofing system. Thus being able to make an informed decision about the long term benefits of using metal roofing." Stated Mr. Pongsak Padungkarn – Country President, BlueScope Malaysia, Singapore & Brunei.
 During the launch KHP Steel Products (M) Sdn. Bhd was represented by its' Chairman, Mr. Ng (full name), "It is a big challenge for the company but we do appreciate NS BlueScope to give us this opportunity to participate in this plan. The rise of the internet and websites have ensured that our business model is evolving rapidly.  Direct interaction with consumers has become more important."
 "Metal roofing is no longer like old days 'kampung house', noisy and hot. Our systems combines insulation and sislation had solve those issue and really become a trend compare with clay tiles or shingles. Not only in Johor but the entire Malaysia, residence first concern is security.  A burglar definitely cannot enter from the roof and it's also termite proof.  There are no design limitations with metal roof because it can use for low pitch or high pitch roofs."
 NS BlueScope locally manufacture BlueScpoe Zacs® steel utilizing advanced mass coating technology from Australia and it is the only coated steel with optimal combination of aluminium-zinc alloy. As a result, with BlueScope's proprietary coating technology, it provides more corrosion-resistant and longer-lasting metal roofing to keep the loved one safe. Consumers can enjoy peace of mind knowing that their roofing material was manufactured in accordance to strict Malaysian standards (MS 1196 and / or MS 2383).
 Also present at the launch was Mr. Brian Chong – Vice President for Retail, NS BlueScope Malaysia.