The Malaysia Academy of Han Studies 
The Tulou clusters in Southern China is a particularly impressive symbol of yesteryears' tradition with its unique form of structure symbolising strength, harmony and community within its then residents, the Hakka Chinese. Currently, it is recognised by the World Heritage Organization as a UNESCO site.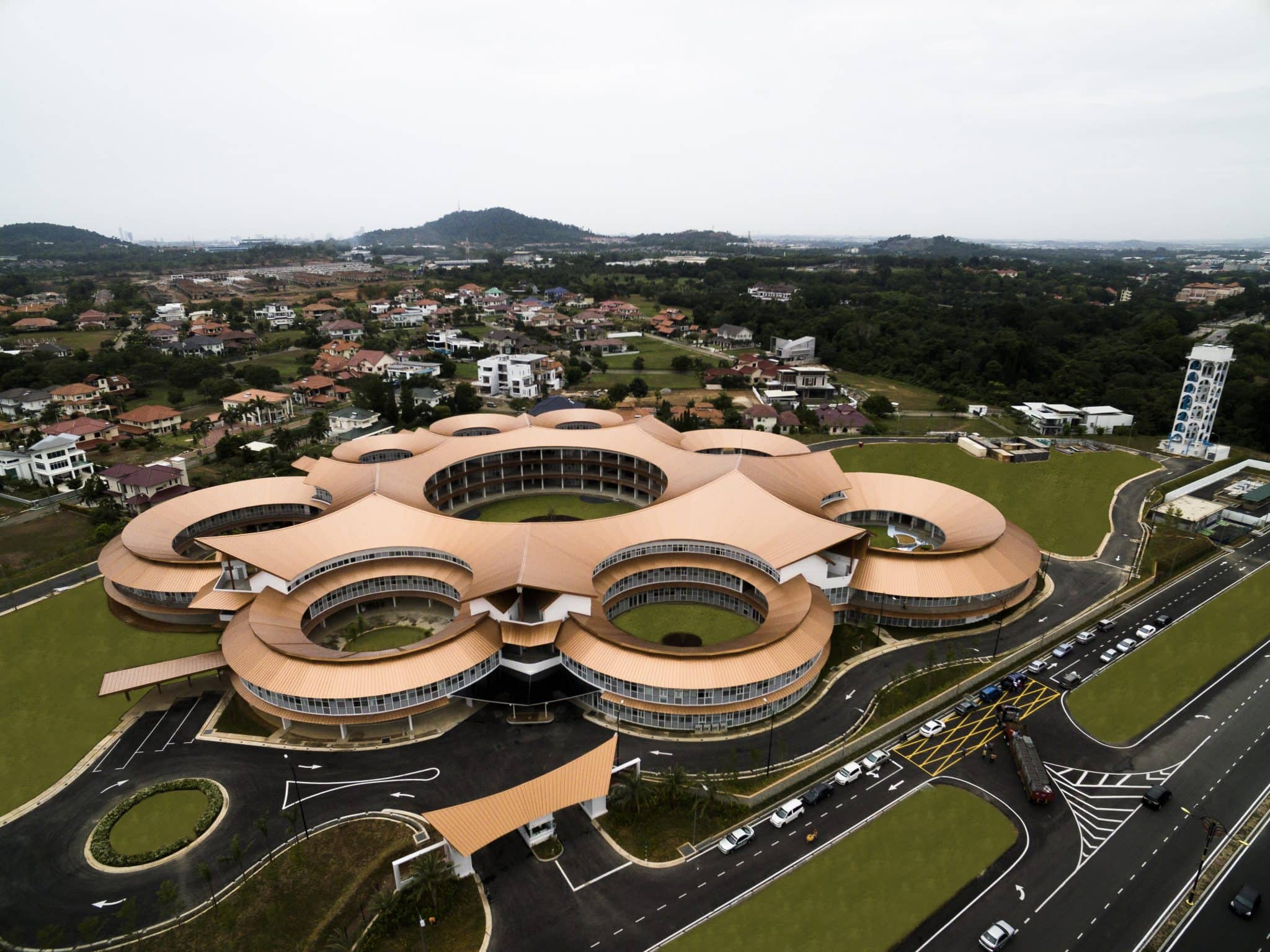 Designer
studio505, Australia
Product
CLEAN COLORBOND® XPD Pearlescent
Profile
LYSAGHT® 360 SEAM®,
LYSAGHT® SPANDEK® OPTIMA™ 
Completed in 2016, The Malaysian Han Studies (MAHS) is a non-profit, private educational institution located in the historical city of Melaka.
Designed to function as a self-sustaining community, MAHS promotes an inclusive culture where parents, teachers, staff and children live together, learning and teaching on a charity-funded site. At the heart of its curriculum is the principles of Confucianism, Taoism and Buddhism. The emphasis is on cultivating traditional Chinese values. Featuring 9 cylindrical buildings, MAHS hosts a close-knit community with a hostel, office, auditoriums, study and common spaces.
Drawing inspiration from traditional Malaysian and Chinese structures, MAHS was designed by an Australian architectural firm, Studio 505. From a bird's eye view, one can see that the iconic roof design is inspired by the Hakka Tulou village of Southern China. Tulou simply translates into Earthen Buildings in Chinese. They have, since the 15th century, served as large communal homes.
The aesthetically-pleasing structural design does not compromise practicality. MAHS' values and philosophies had to be embodied in the structure to create a constant flow of energy and ideas. To create a conducive learning and living environment, the designers used minimal partitions and louvred walls to allow natural light and cross-ventilation.
Maximising energy efficiency was central to MAHS, and here is where Lysaght technology came into play. As a premier manufacturer of steel building products with over 150 years of experience, it is our commitment to provide high-quality roofing solutions according to the international building standards.
With Lysaght's strong heritage and history, the 360 Standing Seam profile is the preferred roofing choice to fully express the beauty and functionality of the drum-shaped structure. Despite space constraints and coordination challenges faced by the Supply & Install team, the LYSAGHT® 360 SEAM® was successfully installed within the project timeline.
LYSAGHT® 360 SEAM® &  SPANDEK® OPTIMA™
Lysaght's roofing system is meticulously-designed for flexibility and durability in order to address architectural limitations. The non-piercing profile of the LYSAGHT® 360 SEAM® and SPANDEK® OPTIMA™ comes with curving and tapering abilities. In addition, the trapezoidal profile of the roof also gives a modern, bold look that enhances the beautiful drum-shaped architecture. Hence, this product is an ideal choice for the academy.
CLEAN COLORBOND® XPD PEARLESCENT
CLEAN COLORBOND® XPD PEARLESCENT is weatherproof and dirt-resistant steel that provides long-term colour and gloss retention of structures. Other than keeping the colours bright and clean, the metallic finish of the CLEAN COLORBOND® XPD PEARLESCENT gives a unique perception of depth. The beautiful steel roofing clearly serves the intent of making a visual impact and raising the Academy to its rightful place as an iconic institution in Melaka.