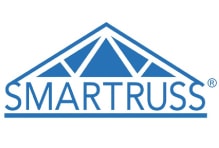 LIGHT WEIGHTED TRUSS SYSTEM
SMARTRUSS® is lightweight high-strength ZINCALUME® , provides superior corrosion resistance.
LYSAGHT® SMARTRUSS® is not only applied in construction but also depends on creations in design and steel solution of works.
Besides, LYSAGHT® SMARTRUSS® can be used to replace in application of mild steel to provide higher economic and aesthetic efficiency.
Product Features
The LYSAGHT® SMARTRUSS® roof truss system is a solution researched and developed by NS BlueScope Lysaght.
LYSAGHT® SMARTRUSS® is formed by the professional design software named SUPRACADD® from thin, high-stiffness, durability and stability C section and Omega. teel ZINCALUME® AZ200 G550 of BlueScope. Furthermore, all structural calculations are checked and accredited by the Nation Association of Testing Authorities (NATA) of Australia.
With the exclusively prominent features and ensured quality in Vietnam, LYSAGHT® SMARTRUSS® has offered many benefits to the works in comparison with traditional roof solutions and other similar roof solutions in the market.
Cost
Reduce costs for building foundation thanks to lightweight but ensuring bearing capacity.
Installation

Reduce construction time with reliable quality thanks to professional structure calculation …
Project life circle
Longer useful life, termite and insect resistance and antirust.
Warranty
Warranty term of up to 36 years*.
LYSAGHT® SMARTRUSS® (Vietnam)