10th April 2023
DEVELOPING SUSTAINABLE SUPPLY CHAIN A STRATEGIC VISION FROM LEADING ENTERPRISES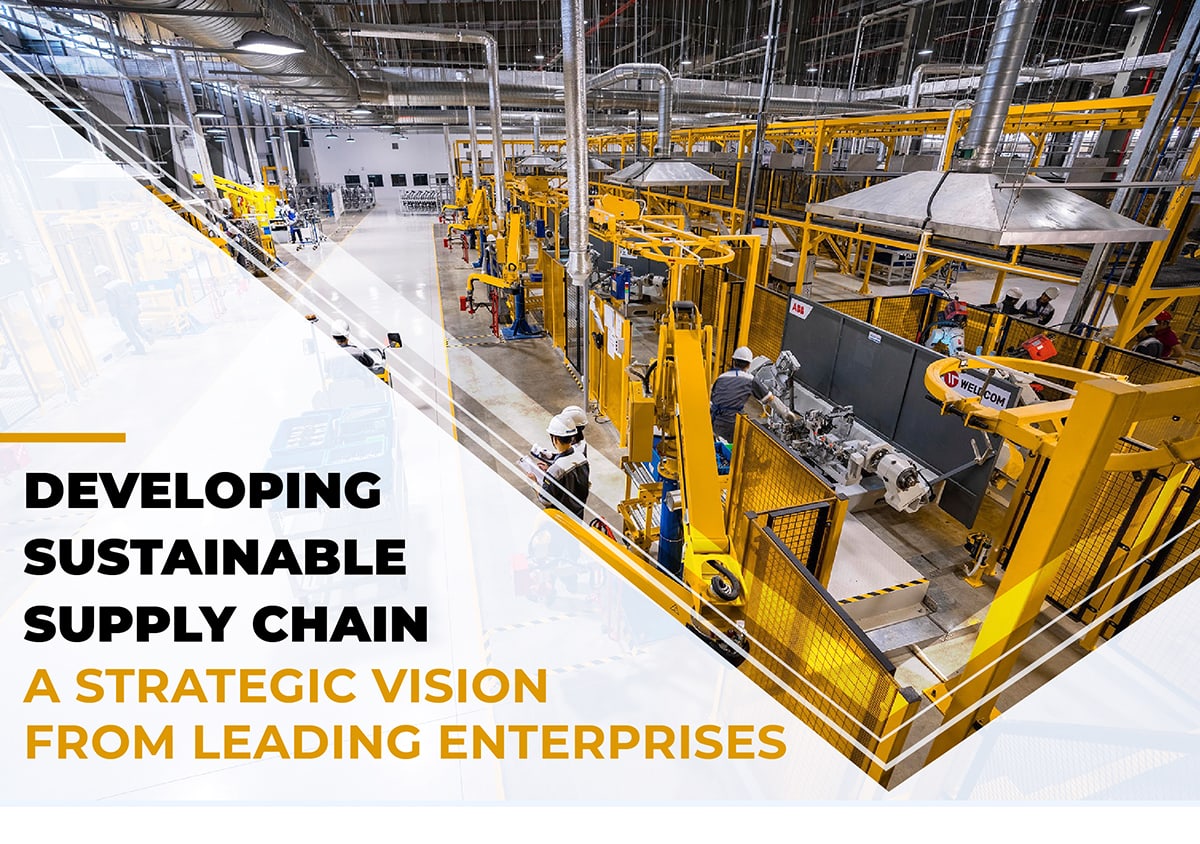 An IFC (International Finance Corporation) survey results showed that up to 60% of businesses in the IFC system responded that businesses only want to purchase from partners when they meet the criteria of quality, price, gender equality in labor and the factors of green production towards a recirculating economy. This shows that sustainable development today has become a measure to assess the long-term development of a business, especially in Vietnam.
The trend of sustainable development appears when businesses face increasing pressure from customers forcing them to be more transparent and sustainable in their supply. With about 80% of the environmental impacts of a business supply chain, the "green" indicators of suppliers and strategic partners are very important factors that influence. to the reputation and performance of a business.
In addition, in developed markets, policy executives and investors are putting pressure on businesses to force them to disclose their sustainability practices. This explains why most businesses want to achieve a recognized sustainability standard in the industry or in the market.
At the event on Sustainable Supply Chain Development was organized recently by NS BlueScope Vietnam, representatives of businesses in different fields such as INSEE, DECATHLON, AkzoNobel… expressed their wish to minimize supply chain risks for sustainable development together.
The Ecocycle and Sustainable Development Director at INSEE in Vietnam, Mr. Bruno Fux shared: "INSEE Vietnam are trying to do with recycle and waste management plan is to put circular economy into practice by getting waste from manufacturing companies and we are producing our alternative fuel out of it. Next, It turns into fuel we can use in our cement manufacturing process. And waste recycling is INSEE's dedicated efforts to tackle the issue of waste as well as the impact on the environment that reduces waste to the ocean. Besides, INSEE Vietnam always collects data to let the public know about CO2 emissions, to contractors so that they can combine the sustainability report every 2 years, in compliance with the international agreements and industrial design begins with sustainable cement designs."
Discussing the same point, Ms. Trinh Anh – S.D Manager of DECATHLON Vietnam said that DECATHLON focuses on many factors to develop a sustainable supply chain in each country such as: Social responsibility, protection environment and chemical management to develop production without damaging the environment and minimizing CO2 emissions, designing environmentally friendly products, towards products with a long life cycle, can reuse to create circulation for the economy…
Mr. Melvin Spalburg – Manufacturing Manager of AkzoNobel, said: "With AkzoNobel the sustainability and design factor designing sustainable manufacturing processes is imperative in running such a long-standing company. The way we work with suppliers and customers is that whenever new supply processes are required in countries like Vietnam, quickly set up new factories and warehouses which based on a sustainable approach".
Mr. Vo Minh Nhut, CEO of NS BlueScope Vietnam, shared: "Businesses implementing sustainable policies will create competitive advantages for businesses. It can help businesses reduce costs through energy saving activities. Increasing labor productivity through connecting with workers, helping businesses meet the increasingly stringent requirements of their customers".
Especially, to develop a sustainable supply chain, it is necessary to have a joint hand of suppliers, partners. Accordingly, suppliers must adhere to principles such as respect for human rights, minimize impact on the community, commit to BlueScope in all principles, and be transparent to receive third party reviews…