18th November 2019
NS BlueScope Vietnam Shares Experiences in Labor Safety Management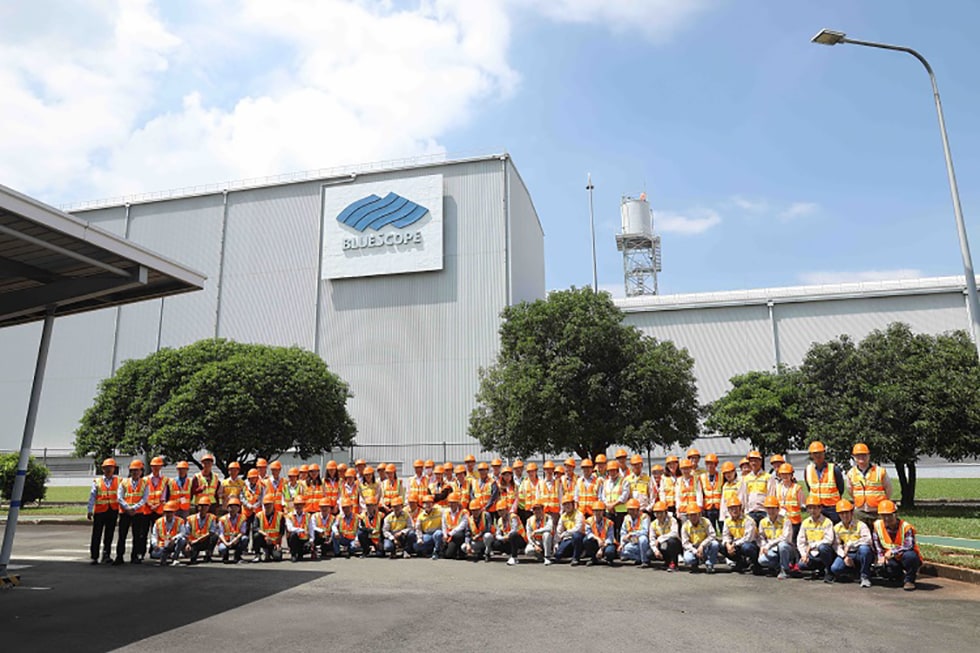 "
The company focuses on investing to ensure a safe and hygienic working environment according to global standards for employees.

"
NS BlueScope Vietnam Co., Ltd. and Ba Ria – Vung Tau Industrial Zones Authority (BIZA) have just organised a review of awareness-raising program and sharing management experience on occupational safety and health.
After one year of implementation with the cooperation from BIZA, more than 100 enterprises in Ba Ria – Vung Tau province, as well as neighbouring provinces, participated in many practical activities to raise business awareness about writing. full of labour. Specifically, the series of seminars on occupational safety and health management in enterprises, improving production efficiency and sustainable development,
contractor management, energy isolation, high fall prevention, falling objects … Enterprises also visit the actual model of safety management at NS BlueScope Vietnam factory.
Mr Vo Minh Nhut – General Director of NS BlueScope Vietnam said that he always considered occupational safety as one of the top priorities for long-term sustainable development. Therefore, the company is constantly investing in ensuring a safe and hygienic working environment according to global standards for employees. At the same time, NS BlueScope Vietnam shares its accumulated experience in building a safe culture to the business community, aiming at the goal of non-labour production.
"After a year of implementation, the program has received an enthusiastic response and positive feedback from many businesses. This will be the foundation for us to evaluate and continue to expand the program in the future, "said Nhut.
NS BlueScope Vietnam supplies hundreds of thousands of tons of galvanised steel to the market each year and is also an enterprise with a high labour safety index in the industry. During the operation, the company built a safe working environment for 400 employees, helping to increase productivity and business efficiency.
Mr Tran Huu Thong – Deputy Director of Ba Ria – Vung Tau Industrial Zone Management Board of the province concentrates many industrial parks and enterprises operating in heavy industries, mechanics, construction materials. Therefore, labour safety must pay attention to ensure safety not only for businesses but also surrounding communities.
"We appreciate the practicality of the NS BlueScope Vietnam pioneering program implemented in the past year. We hope that businesses in the area will actively apply the shared content to employees to work with a peace of mind, " Mr Thong commented.
The success of the program marks the second year in a row that NS BlueScope Vietnam has implemented activities to raise labour safety awareness, promoting businesses for sustainable development in the localities where the company is located. export. Previously, the program was held in Dong Nai in early 2018 and received positive feedback from businesses in industrial parks.
NS BlueScope Vietnam will hold a seminar on "Creating competitive advantages through safety culture" in Hanoi on November 29, sharing practical experiences, introducing the application of occupational safety in construction and Safety discussion session. The event will be a forum to share useful experiences to help the business community raise awareness and practice to gradually standardise occupational safety.