11th December 2022
NS BlueScope Vietnam: CSR goes hand in hand with business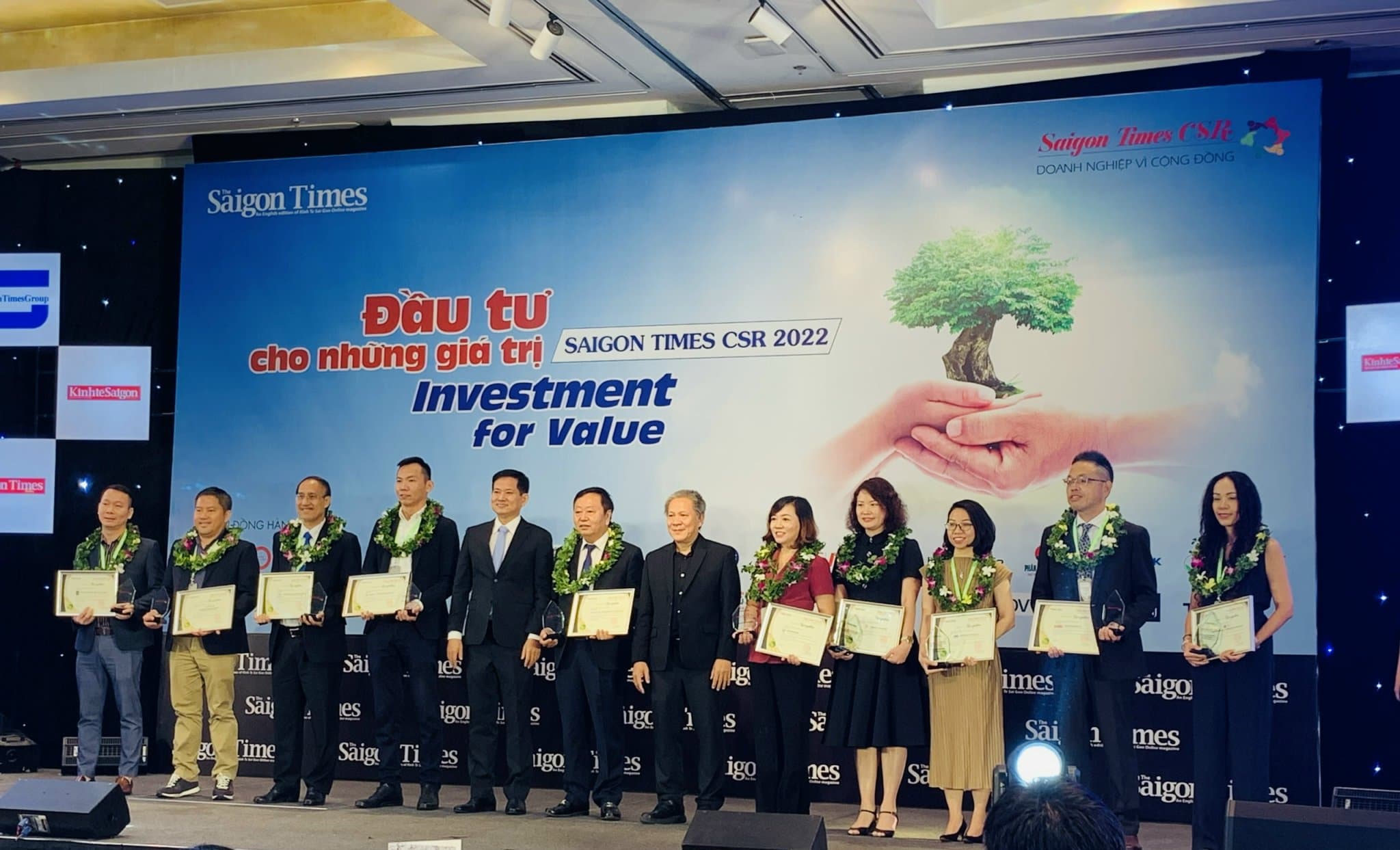 Corporate social responsibility (CSR) is not new to the Australia-headquartered steel maker NS BlueScope, which has been present in Vietnam for over two decades. CSR is considered an integral part of its business activities.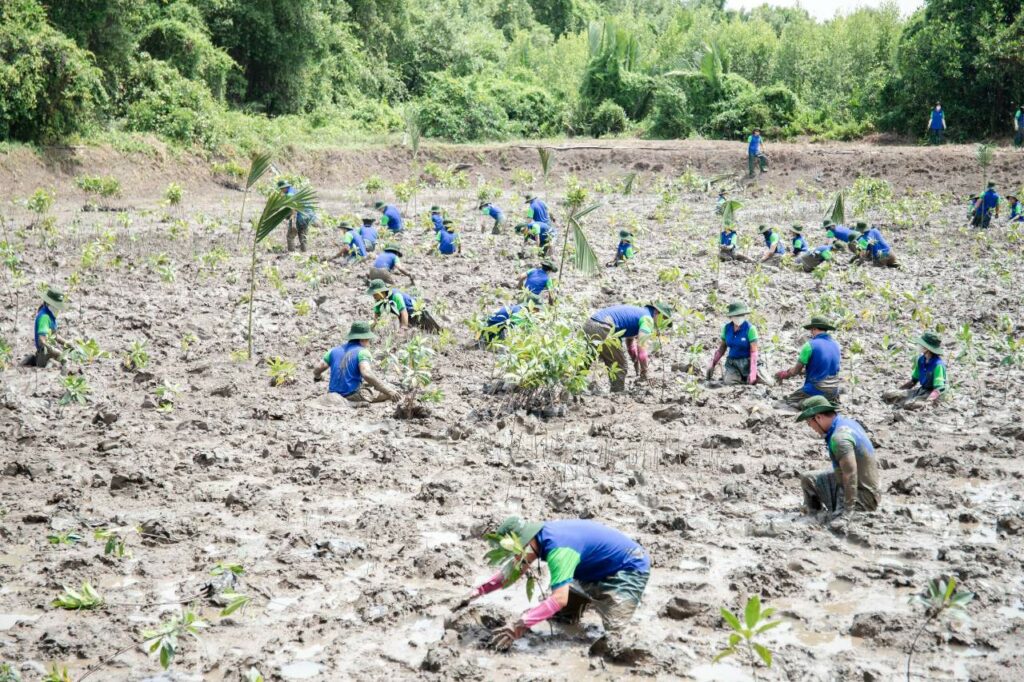 NS BlueScope Vietnam's employees plant trees at the Can Gio Mangrove Forest in HCMC – PHOTOS: NS BLUESCOPE VIETNAM
Since its very first days in Vietnam, NS BlueScope has attached much importance to CSR activities. Its CSR activities are diversified, including contributing to the community and the green and safe environment, supporting its partners to improve their competitiveness and produce green and environmentally friendly products, and creating a safe and happy working environment for its employees.
"Despite operating in the steel sector, NS BlueScope's value chain spreads from consumers, contractors and design consultants to suppliers. To ensure our sustainable development, the entire value chain needs to develop in a sustainable manner," said Dang Thanh Hung, vice president of NS BlueScope Vietnam.
Creating value for community
NS BlueScope's CSR activities for the community consist of both long-term and short-term ones, such as annual programs branded NS BlueScope, and short-term activities in line with the social circumstance in each period.
Before the 26th United Nations Climate Change Conference (COP26), NS BlueScope had built a short-term plan to cut carbon emissions by 30% in the 2018-2030 period.
After the COP26 in 2021, the company built a climate change mitigation strategy with an aim of carbon neutrality by 2050.
On the occasion of the World Environment Day (June 5) this year, NS BlueScope and its partners planted more than 3,000 trees at the Can Gio Mangrove Forest in HCMC's outlying district of Can Gio.
During the peak of the Covid-19 pandemic, the firm, with an aim to join hands with local residents and partners to fight the pandemic, launched multiple meaningful programs.
The most remarkable program was "F0 You're not alone", an online community for Covid-19 cases on Facebook. The "F0 You're not alone" Facebook Group included many doctors, who provided advice about the treatment to over 65,000 Covid-19 patients, and artists and celebrities, who encouraged the patients to beat the disease through online music performances as well as yoga trainers.
Within the framework of the program, 1,500 bags of medication were presented to patients in areas under lockdown.
In addition, as a company operating in the construction sector, NS BlueScope always expects all walks of life in Vietnam to have solid and comfortable homes. Therefore, the company has committed to maintaining the "Love Pieces" program over the past six years with hundreds of houses presented to poor households in 24 provinces and cities nationwide, Hung said.
As the number of accidents in the construction sector remains high, for many years, NS BlueScope has pioneered to develop a community to share safety management experience. With multiple training courses and seminars held across the country, the community is heading towards a non-accident working environment in the future.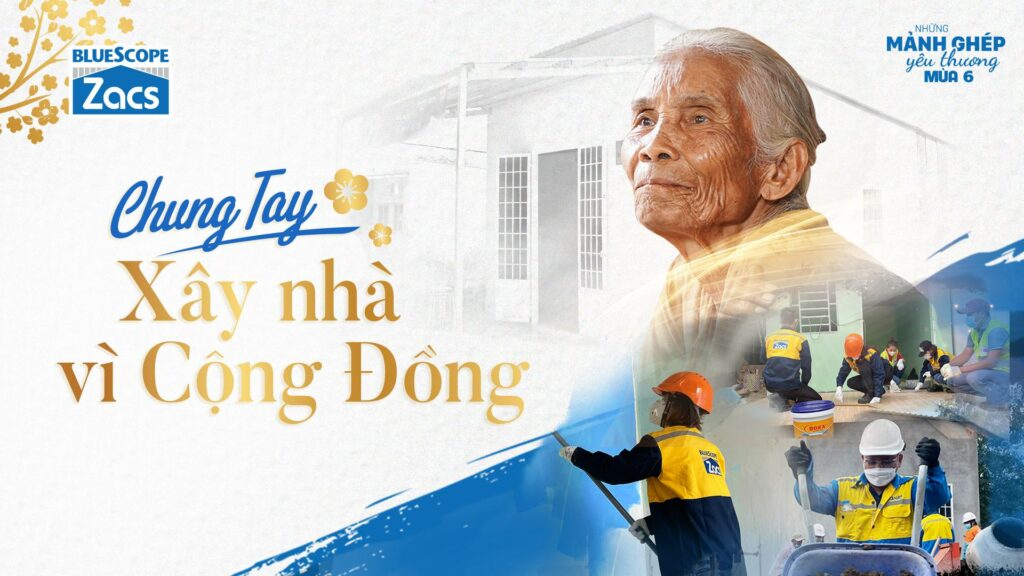 NS BlueScope Vietnam's "Love Pieces" program
Dedicated to sustainable development
NS BlueScope's CSR activities are not limited to charitable activities and those supporting the community but also those to protect the environment and promote the green production.
Environmental protection and sustainable production have got the attention of consumers and developed countries. They force enterprises to meet higher standards and create opportunities for firms to penetrate other markets.
The sustainable development has become a requirement for enterprises with a desire to integrate into the global market. This is also what NS BlueScope is demonstrating in Vietnam.
It is the only company in Vietnam to own Activate™ – a four-phase alloy-coated technology, which helps protect steel even in the most severe conditions, prolong the life-span of projects and enhance the investment efficiency.
The company has also developed the Thermatech® solar reflectance technology, which reduces peak roof temperature by up to six degrees Celsius, thus cutting the energy consumption of projects.
Moreover, NS BlueScope is the first and only coated steel manufacturer in Vietnam to be granted Green Label certificates for its key products by the Singapore Green Building Council.
The company has also joined forces with its strategic partners to develop all-in energy-balanced architectural solutions from design, consulting to construction, contributing to helping Vietnam's architecture sector keep pace with the energy-balanced trend in the world.
"At NS BlueScope Vietnam, CSR activities are not only a commitment but also an integral part of our business. As a pioneer in community and environment protection activities, we expect to improve the awareness and habits of other enterprises, thereby creating a sustainable and wholesome community and a better society," Hung added.